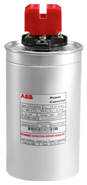 Low Voltage Capacitors QCap
Low voltage capacitors to resolve low power factor and power quality problems
As a source of reactive power, ABB low-voltage capacitors provide significant improvement of power quality and reduction in energy cost by:
Reducing or eliminating expensive utility penalties for low power factor
Reducing power losses in cables and transformers
Increasing power transmission capacity in cables
Increasing available transformer capacity
Improving voltage stabilization in long cables
The ABB's QCap standardized cylindrical low-voltage capacitor range will help improve the power quality of low-voltage installations by addressing poor power factor issues.
Applications
QCap capacitor units are used in industrial and commercial installations for standard reactive power compensation applications.
Why ABB?

The low-voltage capacitor QCap stands for:
Dry type design
Safe sealing and overpressure disconnection system
ABB in-house metalized film giving excellent dielectric properties
Optimized thermal dissipation
Long life
Highly reliable
Standardized capacitor range in a cylindrical form
---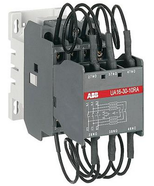 Contactors for Capacitor Switching
Withstand unlimited peak current
Capacitor switching application leads to very high current peak at capacitor energization. UA..RA contactors are designed with damping resistor to handle current peaks without limitation.
Product benefits
Widest contactor range on the market up to 80 Kvar
Reliable in capacitor switching demanding application
Easy selection with CAPCAL software.
Product features
UA..RA contactors, with damping resistors, are used when peak currents are far exceeding 100 times nominal rms current
UA contactors are used when peak currents are less or equal to 100 times nominal rms current
UAF..RA with wide control voltage range available, thanks to AF technology and electronic coil.
---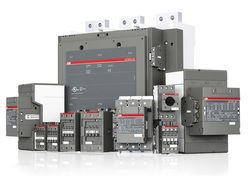 AF 3-pole Contactors
To keep things moving, you need Control
Featuring AF technology as standard, AF contactors establish a new industry benchmark. The electronically controlled coil offers multiple benefits over conventional alternatives, and together with ABB's wide product offering, an optimal configuration, every time.

Main benefits


Optimize logistics and cut administration costs with fewer product variants to handle
Access global support and use the same products in all parts of the world: the 100 - 250 V, AC/DC coil covers all standard network voltages
A reduction of the coil's energy consumption by 80% lets you save energy
Secure your uptime by letting the AF technology overbridge voltage drops and sags.

Main features


Up to 560 kW - 400 V AC-3, 900 hp - 480 V and 2650 A - 690 V AC-1, 2700 A - general use
Only 4 coils cover 24 V - 500 V AC and 20 V - 500 V DC
Screw, spring and ring tongue connection types
Built-in surge suppression
Connection sets and interlock unit for reversing and star-delta starter for an easy, fast and secure assembly of starters
Mirror and mechanically linked contacts.
---