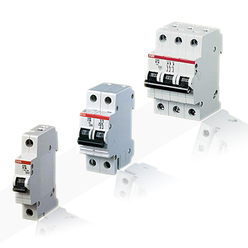 Miniature circuit breakers - MCBs
Uncompromising safety and comfort
Miniature Circuit Breakers protect installations against overload and short-circuit, warranting reliability and safety for operations. System pro
M
compact S 200 series are current limiting overcurrent protective devices. They have two different tripping mechanisms, the delayed thermal tripping mechanism for overload protection and the magnetic tripping mechanism for short circuit protection.
Main benefits
Extra-wide and complete range of MCBs to cover most applications and markets
Meeting worldwide standards
Certificates, documentation, training or background information to support customers due to their daily work
Space and time saving thanks to the unique bottom-fixing auxiliary contact
Main features
MCB range offer the possibility to select among different characteristics (B, C, D, K, Z), configurations (1P, 1P+N, 2P, 3P, 3P+N, 4P), breaking capacities (up to 25 kA) and rated currents (up to 63A).
Compliance to the worldwide product standard:
• IEC/EN 60898-1
• IEC/EN 60947-2
• UL 1077
• UL 489
• CSA 22.2 No. 235
• CSA 22.2 No. 5
allowing the use for residential, commercial and industrial applications.
35 mm2 and 10 mm2 cylinder lift twin terminals for challenging industrial use. Cross wiring can easily be realized by inserting the bus bars into the rear terminal part and the incoming wires
into the front part.
Real contact position indication, directly connected to the moving contact, for more comfort and safety
---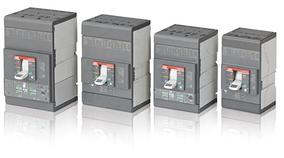 SACE Tmax XT
Simply XTraordinary
Tmax XT moulded case circuit breakers guarantee an extremely high performance level while being progressively smaller in size, simple to install and able to provide increasingly better safety. Range is complete with four frame sizes: XT1, XT2 up to 160A and XT3, XT4 up to 250A.
High breaking capacity in compact dimensions
XTraordinary limiting characteristics allow savings in copper and footprint in switchboard, high selectivity values and very compact motor protection solutions.
Ease of use and installation flexibility
A dedicated range of accessories and a renewed solution for electronic trip units to adapt Tmax XT to different applications scenarios.
Customized protection and information availability
Specific electronic trip units for energy metering, motor protection and generator protection in addition to a Modbus communication module for integration in a supervision system.
Increased safety for operators
Wide range of keylocks and padlocking options, plug in and withdrawable versions to speed up maintenance operations and improved diagnostic to have ready to use information about breakers' status.
---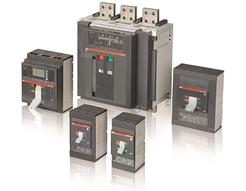 SACE Tmax T
A complete range of moulded case circuit-breakers up to 3200 A
All the circuit-breakers, both three-pole and four-pole, are available in the fixed version; sizes T4 and T5 in the plug-in version and T4, T5, T6, and T7 also in the withdrawable one.
High breaking capacity in compact dimensions
High values of short circuit breaking capacity are guaranteed at different voltage levels, without compromising overall dimensions.

Flexibility of use
Thermomagnetic and electronic trip units are available for use in AC/DC or in AC only. It is possible to interchange trip units keeping the same breaking part, so that installation can be upgraded with fewer costs.

Advanced protection
A complete range of electronic trip units is suitable for different level of protection, even enhancing selectivity values with Early Fault Detection and Prevention algorithm.


---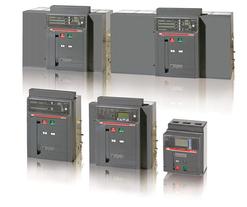 SACE Emax
The evolution continues
The SACE New Emax family of air circuit-breakers consists of six sizes: X1, E1, E2, E3, E4, E6 up to 6300A.
All the SACE New Emax circuit-breakers have the same height and depth both in the fixed and withdrawable version and allow construction of compact switchgears.
Main benefits
Maximum safety is ensured in many different ways, such as racking-out with the door closed, degree of protection towards the outside up to IP54, various different safety locks and double insulation.
The innovative pole structure guarantees complete insulation between phases, and between the phases and neutral, while ensuring full possibility of inspection of the arcing chamber and the main contacts.
Lively performance. E1 now offers current ratings up to 1600A, whilst E3 is enhanced by the top performance level V.
Main features
Brilliant intelligence. The new generation of protection trip units is fitted with the latest advances in electronics, offering individual bespoke solutions for control and protection.
The new trip units, which are amazingly versatile and simply to use, offer important innovations, such as the brand-new intuitive operator interface allowing a complete control of the system with just a few simply key-strokes.
Furthermore, there are new protections, new alarms and connection to handheld and laptop PCs using Bluetooth technology.
With the new standardize system of accessories, studied and made for new Emax, work becomes easier, convenient, safe and rapid.
---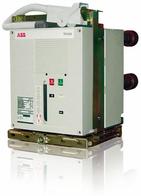 EC/ANSI indoor vacuum circuit breaker Vmax
MV breaker with mechanical actuator (spring mechanism) for primary distribution, up to 17.5 kV, 1250 A, 31.5 kA
Vmax breakers are used in electrical distribution for control and protection of cables, overhead lines, transformer and distribution substations, motors, transformers, generators and capacitor banks.
Why ABB?
Stored energy operating mechanism with anti-pumping device supplied as standard
Fixed and withdrawable versions with front operating mechanism
Circuit-breaker racking-in and racking-out with the door closed
---